NAIL MAKING MACHINES, THE THE RIGHT CHOICE TO CREATE AND START YOUR NAIL PRODUCTION BUSINESS.
Start nail making production and open the doors to new opportunities.
WIRE NAIL MAKING MACHINES Z94-1C Z94-2C Z94-3C Z94-4C Z94-5C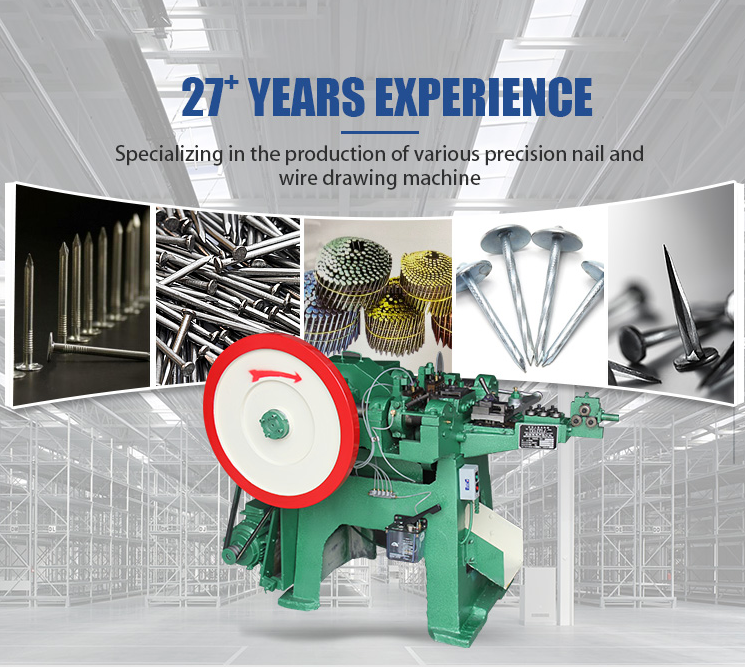 COMMON NAIL POLISHING MACHINES
OK, SO WHY NAIL MAKING PRODUCTION ? Well, lots of reasons, but most importantly because..
MINIMUM INVESTMENT :The start up capital for common nail production is minimum. Any similar production require, work force, big production space, industrial power supply, delivery staff, government permissions and many other factors which will increase your start up investment. Starting common nail production is simple and inexpensive. All you need is one budget nail making machine. Small work shop. One worker. Single phase power supply and some wire rod (raw material) for production of common nails. Lets analyze all points: Budget nail making machine you already found all you need is to contact us. Any worker can operate the machine and the most hard work will be packing of the common nails. You can use your garage or your hire inexpensive one, conveniently close to your home. Single phase power is always available and consummation is only 2.2 kw – same as a water heater you use at home. At the beginning customer can collect ready made nails directly from your work shop. Government permission, in most cases is not need it for single phase machine. Wire rod you can find in your country or order from us, we always can supply small amounts for you to start.
HIGH DEMAND: Nails are used in construction of millions of buildings and houses, millions of furniture makers use common nails, and millions people around the world buy common nails in hardware stores, just to fix something in their houses. Even shoemakers use nails! Every day demand around the world is huge. You can easily find market for your nails, contacting builders, hardware shops and furniture makers.
PROFESSIONAL SKILLS:
You don't need to be engineer, there is no machinery knowledge required.
We will guide you with videos  and explanation, how to maintain and operate your nail making machine. Any worker can learn fast how to operate the nail making machinery. Our nail making machines are automatic, all your worker need, is to learn is how to change the mold of the nail making machine, and this can be achieved easily, with a small help from our side. All the work processes are simple, and time spend on it, is minimum:
Changing the mold of the nail making machine – 20 min per day Daily,
oiling the machine – 10 min per day
Feeding the machine with wire – 45 min per day
Releasing some space in front of the nail making machine – 60 min per day
Packing of the produced common nails – 60-120 min per day
TOTAL MAXIMUM WORKER DAILY SPEND TIME – 5 HOURS
TOTAL OUTPUT OF NAIL MAKING MACHINE SERIES S – 500 KG COMMON NAILS 2″/50 MM SIZE
EXPAND YOUR BUSINESS BUILD NEW PRODUCTIONS! NAIL MAKING MACHINES ARE DIRECTLY CONNECTED TO VARIETY OF PRODUCTIONS
Nail Polishing Machine:
Your nail making machine is connected to many other production which you can make in the future. After you enlarge a bit you can buy common nail polishing machine which will make your common nails shiny. At the beginning we do not recommend to you to buy the nail polishing machine as in many countries around the world the nails are not polished. But in 3-4 months time it will be good point your common nails to be shiny and have better market look. So you will move from "quantity to quality" and you can rise the price of your common nails slightly.
Wire Drawing Machine: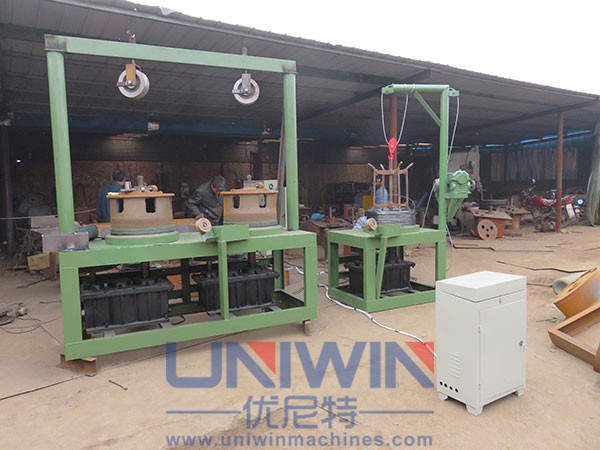 Next step is to buy wire drawing machine so you can complete your nail production line. This machine is used to decrease the wire diameter for production of different nail sizes. From the begging we do not recommend you to buy this machine as the power consumption is around 80 kw and this can slow down the begging of your nail making production. But after 6-8 months investing into this machine will make you more professional, independent and it will increase your profits, as you will have complete common nail making plant.
Roofing Nail Machine:
After you have the nail making machine and the wire drawing machine you can invest in roofing nail machine, also know as umbrella head nail machine and this will enlarge the choice you give to your customers and make you more competitive. Roofing nails have big demand in Asia and Africa, the main use of this nails is to easily and fast nail wooden roofs. The roofing nail machine is build based on nail making machine Series L. The difference is that it has two extra motors and umbrella head assembling mechanism.
Galvanizing Machine:
After you have the roofing nail machine you can buy 2 galvanizing machines one is to galvanize your roofing nail and the second one is to galvanize your wire. To galvanize your roofing (umbrella) nails is important as it will give anti rust protection to your roofing nails. And your wire drawing machine will draw wire for your common nails and the wire which will be later galvanized. Your business will start growing and you will have 3 independent products, common wire nails, roofing (umbrella) nails and galvanized wire. And will also prepare you for the next step.
Razor Blace Wire Machine:
After you have the galvanizing machine you can invest in normal or razor barbed wire machine. The barbed wire is mostly used for protection of intruders. Millions kilometers of barbed wire is surrounding private properties, factories and variety of different kinds facilities. The normal barbed wire production is directly connected to your wire drawing machine and galvanizing machine. As before your produce the barbed wire you need to draw the wire into different thickness and galvanize it achieving anti rust protection of your end product.
Concrete Nail Plant:
After you have the nail making machine, nail polishing machine, wire drawing machine and the galvanizing machine. It is easy to move to business which will triple all your profits. Concrete nails production plant. The main machines you already have, nail making machines, wire drawing machines, polishing machines and galvanizing machines. Concrete nails are used in all continents and this production will give you the opportunity not only to sell your product locally at your destination but also to start export to countries around the world.
SOME OF THE PRODUCTS CONNECTED TO COMMON NAIL PRODUCTION
DIRECT FACTORY
With us you can be sure that you work directly with a professional manufacturer of machinery. You can be sure that you will get
factory price on our products. You can be sure that we will support you and advise professionally at all times before you start,
and after you run your production. You can be sure that we can produce any part of your machine at shortest time and you will
restart you production as soon as possible.
COMMUNICATION
Our export team speaks fluently English and understand perfectly foreign mentality. We know how important is for you is to
understand your instructions clearly and fallow your ideas and suggestions immediately. We know that professional communication is
main key to your success. We are giving big attention for our export team to become more and more professional in technical,
selling and business communication.
EXPERIENCED
We are experienced for many years in: machine production, all kinds of nail production and construction. We can advise you
professionally how to build your factory, how to train your workers, how maintain you factory, how to achieve maximum output, how
to control your business, how to do marketing, how to compete with other manufactures in your country and finally how to keep
growing bigger and bigger your business.
SUPPORT
We will support you how to achieve maximum output how to understand the structure of your equipment. How to deliver safely your
equipment to your destination. How to place and kick off you production at shortest period of time. How to operate professionally
your machinery and business. How to be protect it and nonstop continuously satisfy your customer needs. How to build and start
another production in nearest future.
EXPORT
We know how important for you is shipping cost. Our team will give best prices on FOB/CNF/CIF/DDDU terms. We will provide any
documents need it for customs clearance in your destination. We will choose the most stable and experienced shipping carriers for
you. We will work and communicate with your personal brokers and inland freight transport agents directly to achieve maximum
safety for your products to be delivered in best time manner to your location.
ROW MATERIAL
We have one of the best prices on row material in China. We can supply small amounts for you at whole sale prices for you to grow
your business and increase your profits. We have our own wire drawing factory which purpose is to serve our customers and provide
different diameter of wire for production of common nails, barbed wire, screws, roofing nails, wire mash, coil nails and other
products. We also do supply variety of raw material s for your future productions.